Flowers and fruit both adorn the Elfin Forest in August and September despite little to no summer rain. The signature flowers of this season, widespread and usually blooming only during these two months, are the bright yellow heads of mock heather. Other yellow to gold flowers still decorating our small wilderness area include California poppies and California goldenrod, which does not produce the dreaded allergens of other species called goldenrod.
Coyote brush has masses of creamy flowers. Plants with only male flowers produce five stamens around each of a great many sterile pistils, while the female plants produce large masses of fertile slim tubular pistils. By autumn, the female plants are nearly smothered in tiny seeds with silky white parachutes to be carried away by breezes.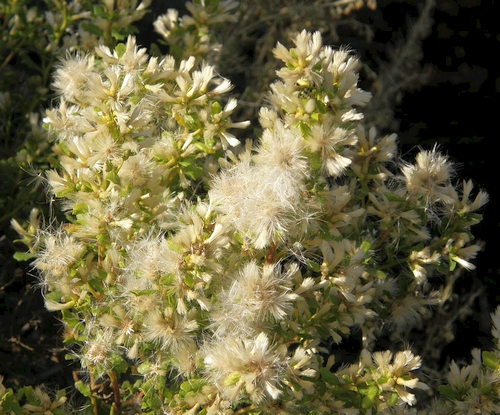 Dune buckwheat flowers have been blooming white, but are aging to pink and then a dark rust color heralding autumn. California asters bloom mainly from August to December with ray flowers in white to pink or lavender around yellow central discs.
Colorful fruits add their beauty to the Elfin Forest in late summer and early autumn. California coffeeberry is especially attractive along the lower boardwalk. Their berries, the size of large blueberries, appear whitish to yellow at first, gradually darken to red, and finally turn rich, ebony black. Berries in all these colors are often clustered together on these shrubs in late August and September. A smaller bright red berry grows on hollyleaf cherry shrubs in the same area. White to pale lavender blossoms in pompoms on sturdy stems of black sage will darken to black pompoms in time for Halloween. Spikes of white flowers characterize chamise near the inland end of the boardwalk.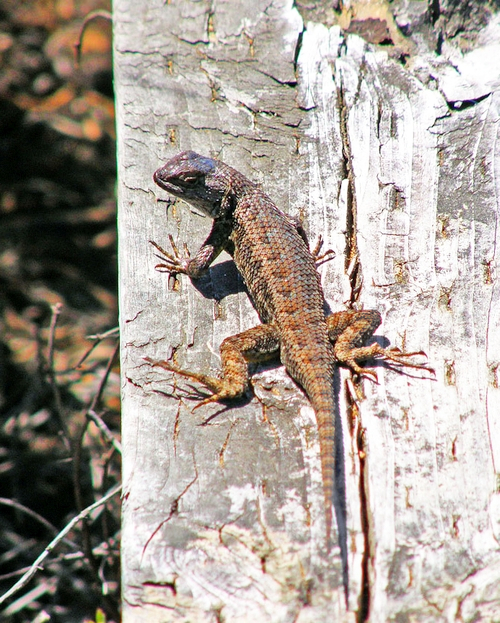 In these warmest months western fence lizards (pictured above) dart actively and do their amusing push-ups along the boardwalk. In the sandy areas under or between shrubs, you may be lucky enough to see a garter, gopher, or California king snake, none of which is poisonous. Also between and under shrubs, or occasionally looking out from the top of a bush, you might see a California ground squirrel (a photo of one accompanies my natural history article about the species on page 4 of Oakleaves). Tracks of our nocturnal animals, notably raccoons, can often be seen in the sand next to the boardwalk on early morning walks.
Resident birds are weaning their young and migrants are already moving in for the winter or passing through on their way to winter homes to the south. Birds likely to be active are White-crowned, Chipping, Lark, Savannah, and Song Sparrows; House and Purple Finches; Lesser and American Goldfinches; Bushtits; Bewick's Wrens; and Annas's Hummingbirds. Fairly common but usually staying low in the bushes are California and Spotted Towhees, California Thrashers, and Wrentits. The blue flash and noisy screams of California Scrub Jays are everywhere, and California Quail can be seen scurrying through the underbrush.
Over a dozen raptors are active in our area all year and may be seen flying or gliding over our forest or the adjoining estuary as they search for prey. Also, begin to keep an eye out for the earliest arrivals of birds migrating south for the winter. Several species of ducks and some wading birds begin to arrive as early as August, and more arrive in September.
The abundant and active life displayed by so many plants and animals adapted to our dry climate and sandy dune soils is marvelous to observe at this stressful season of their year.